VoIP devices offering digital phone service seem to be all the rage these days. It seems more and more people are opting to disconnect from their traditional phone services and look for cheaper alternatives. Today we get our hands on the new netTALK DUO and throw it through a few tests.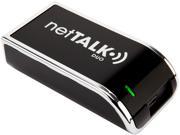 Introduction
The netTALK DUO is new an up-and-coming competitor in the VoIP market. Competing against the likes of the MajicJack, with one great advantage there is no computer necessary to use the netTALK DUO. Simply plug the little box directly into a router or modem (or computer) and connect your phone or fax machine and you are up and running.
The services, or what you are paying for
The suggested retail price for the device is $69.95, including the entire first year of phone service and only $29.95 each year after. For the cost of your one year subscription you get digital phone service that includes free nationwide calls to any phone in the U.S. and Canada from anywhere in the world, as well as some pretty decent international rates. The device also offers a slew of other features such as; Free 411 Directory Assistance, Enhanced 911 Service, Three Way Calling, Call Forwarding and Call Waiting. (
more details here
)
More Features
Plug and play compatible
1 x RJ-11 port (telephone), 1 x RJ-45 Ethernet port
Mini USB to PC or Power port
3' USB to Mini A connector
3' Ethernet cable
Color: Black/Chrome
Free calling to the US & Canada or DUO to DUO
No computer needed / No contracts / No monthly bills
Ultra-low cost international calling rates
First year of service is included. $29.95 each additional year
Live US-based technical support and personalized customer service
Free 411 directory assistance, Enhanced 911, visual voicemail, call waiting, conference calling, conference bridge, and fax friendly
Setup, is it really that easy to use
I've used several of the supposed plug and play devices and I've noticed most the time they aren't always as easy as they are suggested as being. The netTALK DUO really is just that simple. At the most you'll need to download the drivers for the computer setup option, otherwise all you do is drop by http://login.nettalk.com and follow the steps outlined.
I didn't want to be stuck leaving the device connected to my computer so I opted for the 'router setup' which allowed me to connect the device directly to one of the ports on my
Linksys E4200
. After dropping by the login site and setting up my info it was just a matter of plugging in a few cords and waiting for the device to automatically sync with the nettalk network.
In the matter of just a few minutes I was up and running and could make calls.
Call quality and features
With most of these devices the biggest question is "can you hear me now?" For me the voice quality seemed very good. I'd compare it to that of my AT&T cellphone service, which may or may not say alot. The option of not having it connected to a computer is great. I did some testing with it connected, mainly to try out the
netTALK videophone app
. I didn't actually get to make any calls but it looked like it would be fun.
They also have a NetTalk app for your Android, iPhone or Blackberry based smartphone (
download here
). I didn't really see the usefulness of this app, but then again I don't have a phone to try it on.
Since this is really a secondary line only setup for the review I only did a limited amount of testing. So to be honest I didn't get to test most of the other features like voice-mail and call waiting. I didn't want to give out a number that would see limited use to all my callers and all my voice-mail goes through my
Ribbit Mobile
account which I didn't feel like changing.
As an overall opinion this would be a great device for a small office that requires an actual in office line or someone that wants the functions of a land line without the cost. Being able to fax from the netTALK DUO is a definite plus as I do a ton of faxing. I would have liked the option of a couple extra phone ports but that's really not a big deal.
The netTALK DUO is currently available from
Dell.com
,
Newegg
and
WalMart.com
and sales for $69.99 with a full one year service included.