Full disk encryption no longer makes sense. Learn about next-generation encryption and why your organization needs it. Concerned about the damage and liabilities of lost and stolen data, enterprises are turning to encryption as a backstop to prevent corporate and customer information from ending up in the wrong hands. Outdated, first-generation encryption technologies, however, often deliver less than promised—either leaving critical gaps in security, preventing the legitimate recovery of data or, even worse, encouraging operational compromises that can be exploited. Organizations today need a more intelligent, multilayered approach to encryption that automatically safeguards data without complicating essential IT and user operations.
This white paper examines the limitations of first-generation encryption processes that often deliver less-than-promised performance, spur user resistance, conflict with operational infrastructure and process requirements, and can even leave data stored in unencrypted locations where it is easily visible to unauthorized users. This white paper covers:
Data in the Line of Fire
Changing Needs of Security Management
Data on the Move
Endpoint Data Protection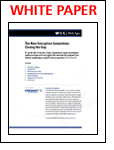 Click here to get this
free white paper now

Complimentary Industry Downloads
Here at Geek-News.Net we've joined forces with TradePub.com to offer readers the industries best selection of complimentary white papers, webinars, podcasts, and more. Each week we'll feature a new set of offers featuring some of the best white papers, articles or downloads from Tradepub.com.