For the last week or some rumors have surfaced that the new Phenom II x3's can actually be unlocked to use the elusive fourth core. Turning that cheap triple core into a nice quad core chip. According to Vr-Zone several motherboard manufactures have now
confirmed the rumors
, even though they had been previously confirmed by several user reports.
From the reports the trick requires nothing more than a motherboard supporting the Advanced Clock Calibration (ACC) feature, which currently only motherboards with AMD's SB750 southbridge chip support and a Phenom II X3 processor belonging to the 0904 manufacturing batch. You'll also need a little luck of the draw here as not all of the triple cores will have a stable fourth core, in fact that is the reason the fourth core is disabled to begin with.
Fore more details and screenshots confirming the rumors checkout some of the links below:
**Update - AMD has reportedly requested that motherboard manufacturers not release motherboards with the "buggy" BIOS, a flaw in the flaws in BIOS programming which allows ACC to unlock the fourth core, and to devise a fix for the issue immediately. AMD worries that consumer might look to buy more Phenom II X3 and attempt at unlocking them than leaving behind the much more expensive Phenom II X4's.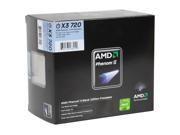 AMD Phenom II X3 720 2.8GHz Socket AM3 95W Triple-Core Black Processor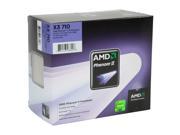 AMD Phenom II X3 710 2.6GHz Socket AM3 95W Triple-Core Processor